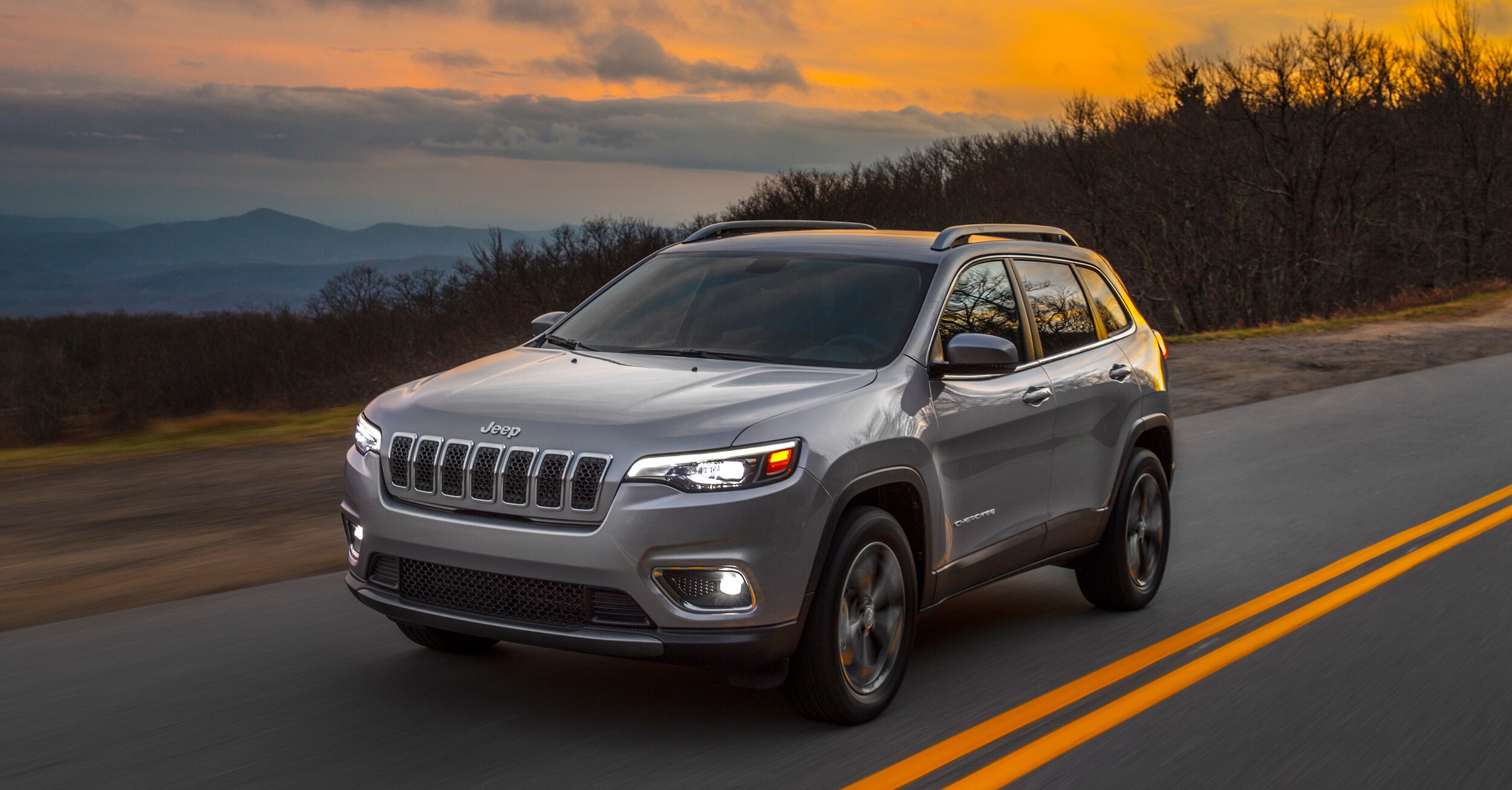 New Jeep Cherokee
For Sale Near Burnsville
Check Out the 2020 Jeep Cherokee at Apple Chrysler dodge Jeep Ram of Shakopee
We at Apple Chrysler Dodge Jeep Ram of Shakopee, located in Shakopee and nearby to Prior Lake and Burnsville, are very excited to gas up the 2020 Jeep Cherokee. This impressive vehicle shows off every year, and this year is no different. We love the style, build and performance values of this beauty and can't wait for you to see what it is all about. We welcome you to give us a visit or reach out to schedule a test drive.
The 2020 Jeep Cherokee shows off nonstop, but we wanted to take a moment to highlight some of our favorite parts and features this coming year. With 2020 coming up on us, we couldn't be more delighted to unveil exactly what it is that sets this vehicle apart form the rest. Check out all we have to say below:
The Jeep Cherokee's History
Created as a response to drivers' desires for a smaller, more efficient version of Jeep's full-size Grand Wagoneer, the 1974 Jeep Cherokee became the first vehicle to formally use the term "Sport Utility Vehicle" in its brochure - thus inventing the segment defining the automotive industry worldwide today. The Jeep Cherokee XJ, produced between 1983 and 2001, sold nearly three million units due to its unique balance between affordability and capability. After a short hiatus following 2001, the Jeep Cherokee returned in its latest evolution to satisfy the demands of a populous calling for the versatility of the Jeep Cherokee once more.
A Modern Evolution of a Legendary Model
The latest iteration of the Jeep Cherokee addresses the shortcomings of its predecessors - primarily through the optimization of on-road performance and comfort. From the incorporation of advanced technology, like the various Uconnect® systems available across all trim levels, to the available plush Nappa leather-trimmed seats and optimized interior cargo space, and the utilization of various available Jeep® 4x4 systems for maximal control throughout your travels, the Jeep Cherokee's modern evolution confidently embarks on your travels through inclement weather, over perilous road conditions and around winding back roads.
Performance
A Powerful Ride
Keeping up with the patter of showing off, the 2020 Jeep Cherokee also provides you with an impressive and powerful ride. This beauty can be equipped with a V6 engine or a turbocharged four-cylinder. Either engine will give you the stamina you need to take on some of your greatest adventures. We also love that when the 2020 Jeep Cherokee is fully equipped, it can handle up to 4,500 pounds of towing capacity. Moving your daughter into her first college dorm room has never been easier. The vehicle also comes with multiple all-wheel-drive systems to check out. This includes an impressive system that will take you off paved roads with a totally comfortable ride.
Interior and Tech
Interior Excellence
With the 2020 Jeep Cherokee you don't just get performance and options, you get total comfort. This vehicle shows off endlessly when it comes to making your life easier and more comfortable. Seating that hugs the human form is equipped both in the front and the back, and a great deal of both head and leg room is available. We also love the impressive amount of small item storage that you will find throughout this vehicle. Never again will you be at a loss for space for your maps, change and other driving necessities.
In addition to physical comfort, you can really enjoy every second of your drive due to the impressive technology available in this vehicle. With blind spot monitoring and rear cross traffic alert, it's easier now than ever to enjoy a safer drive. With parking sensors, you can maneuver parking lots with ease. You also get the opportunity to stay connected with Bluetooth and Apple CarPlay and Android Auto.
Trim Configurations
Trim Level Treasures
We know how important it is for your vehicle to reflect exactly who you are. That's why Jeep has provided five different trim levels for you to choose from. These five trim levels add in style, comfort, utility, and performance upgrades for you to enjoy. With endlessly impressive options, we know that you can make this vehicle fit you uniquely. Check out these impressive options in detain below:
Latitude: this trim level shows off with 17-inch wheels, automatic LED headlight, and a configurable seating arrangement. Though it is the base level, it also equips you with Apple CarPlay and Android Auto, keeping you connected on every adventure. You can also take advantage of Bluetooth, a backup camera, and two USB ports. A 7-inch touchscreen graces the center of your dash.
Latitude Plus: This next trim level gives you a leather wrapped steering wheel and shift knob and adds in a power adjustable driver's seat. You can also enjoy satellite radio, as it is standard on this level. An extra USB port, blind spot warning system with rear cross traffic alert, and an optional auto dimming rearview mirror all make their home in this trim level. Rear parking sensors and dual zone climate control are also available.
Limited: this next trim level gives you leather upholstery, an upgraded driver information display, and heated front seating. It also shows off with a heated steering wheel and an 8.4-inch touchscreen. Enjoy your music through a nine speaker audio system.
Overland: this trim level comes standard with a unique body-colored exterior trim, a sound deadening windshield, and driver seat memory functions. It also has wood inserts, upgraded leather upholstery, and ventilated front seating. This version of the vehicle benefits from both front and rear heated seating, as well as a navigation system.
Trailhawk: this trim level is the final installation for the 2020 Jeep Cherokee. This level boasts some pretty impressive off-road ability. With a higher ground clearance, and amazing all-terrain tires, you can thoroughly enjoy every second of every ride. This vehicle is no slouch when you stray from the beaten path. With skid plates, tow hooks, and unique upholstery, you'll know you made the right choice for those back country adventures.
Leasing
Lease a New Jeep Cherokee Today When You Visit Apple Chrysler Dodge Jeep Ram
There are many reasons to consider driving home in Jeep Cherokee today. You get the look and feel of a Jeep along with the convenience and practicality of an SUV. It is like having the best of both worlds to drive around Shakopee. It is a vehicle that your family can enjoy. It is perfect for getting back and forth to work in, and it is equally suited to weekend adventures in the mountains with the family outside Prior Lake. This is a versatile SUV that will get you where you need to go in style and comfort. With that in mind, you might be asking why you should lease a new Jeep Cherokee.
The Benefits of Leasing Jeep Cherokee
A Jeep Cherokee lease brings with it several benefits. You will probably notice that the monthly payment offered to you is much lower than if you were to finance a new vehicle purchase. This is because you will not own the vehicle, so you save the interest and depreciation charges. With Jeep Cherokee leasing, you will benefit from driving a new vehicle for a few years around Burnsville. Once you start to desire yet another new one, you will be turning this one back into Apple Chrysler Dodge Jeep Ram. Just lease another new one at that point, and you will be on your way.
The Process Involved
Jeep leasing is a natural process. You can even fill out an application entirely online. Alternatively, just stop by, and we will go over the process for you. Once you fill out the application and get approved, we can get you into the exact Jeep Cherokee you envision driving around in for the next few years in the Savage area.
Contact us if you are ready to learn more about the Jeep Cherokee. You can browse through our existing inventory, and we will even arrange a test drive for you. Once you are convinced that this is the SUV for you and your family, we can help you get into a lease and get home before you know it.
Discover Your Ideal Jeep Cherokee at Apple Chrysler Dodge Jeep Ram
We at Apple Chrysler Dodge jeep Ram of Shakopee are very excited about the arrival of this total classic and fan favorite. We are eager to give you the information you need to make the car buying process a smooth one. With our help we know that you will be driving home in the vehicle of your dreams. We are located conveniently nearby to Savage and Eden Prairie, MN and look forward to working with all customers. We welcome you to come in for a test drive of any of our new or used stock, and to ask us any unanswered questions you may have.