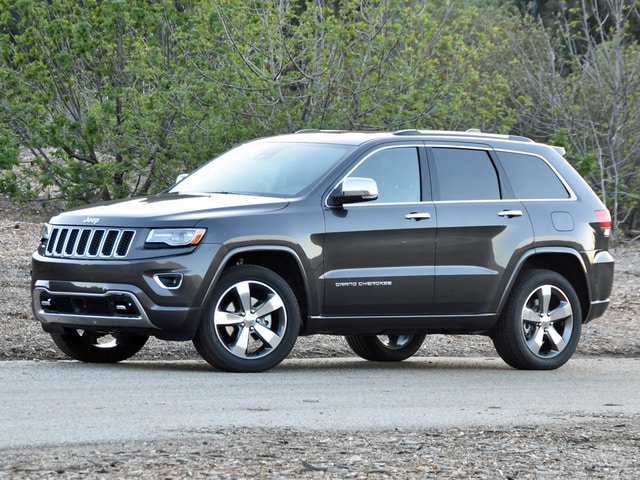 We asked our favorite local automotive journalist, Randy Stern, to give us his impressions of the 2016 Jeep Grand Cherokee. Here are Randy's insights.
The new Jeep Cherokee has become the best in its class. This is not because of its distinctive look or its ability to take five people anywhere it wants to go. It is because of its capability. The Cherokee Trailhawk is the only model in its class with Active Drive Lock with a 4WD-LO speed, locking differentials, Hill Descent Control and Select-Speed Crawl Control. In other words, no other compact SUV can follow it when it goes off-road – and we mean deep off road.
Why would you buy a Jeep Cherokee and not anything else in its class? Our friend and favorite local auto journalist Randy Stern was just up on he trails with a Jeep Cherokee Trailhawk. Here are his five favorite points about the Cherokee – and not just the Trailhawk.
INNOVATIVE: It just is…innovative. Ask yourselves these questions when you are shopping in this hot segment full of solid competitors. Does it have a nine-speed automatic transmission that is designed to maximize fuel economy? Does it have a large 8.4-inch UConnect screen for optimal readout on the fly? Does it have a selectable terrain system for its all…or four…wheel drive system? And, how high of the ground are you for better ground clearance? Drive a jeep Cherokee and these answers will be revealed to you.
CHOICE OF POWER: The 2.4 liter Tigershark four-cylinder is standard. This engine provides enough power, while returning good fuel economy. For meatier jobs, try the 3.2 liter Pentastar V6. Its torque alone is made to pull through the tougher patches. Both engines get the aforementioned nine-speed automatic transmission and a choice of either front-wheel drive or two 4X4 systems. Here is a tip: We live in Minnesota, we get traction issues about half the year. Choose your 4X4 system wisely. Better still, get one with 4X4 – no matter which trim you choose.
A SOLID INTERIOR: The Cherokee's accommodations are great for families or a few friends to tag along. There is seating for 4-5 with a choice of trims that fit your needs and comfort. The rear cargo hold is great – up to 54.9 cubic feet with the rear seat down. What that means is you can go camping for a weekend, or get out of town to some nice hotel with enough room for shopping form the nearest mall. Or, what about enough supplies to pull anyone out of the ditch. It is a great place to be engaged, and entertained, while exploring where to go with your Cherokee.
THE TRAILHAWK: To me, this is the model to get. It already comes with a host of off-road features and components to tackle anything beyond the tarmac. We are not just talking gravel roads. Think of the deep woods and parkland that the Minnesota Department of Natural Resources allows vehicles on, such as the Cherokee Trailhawk, on certain trails. By setting up the Active Drive Lock system, getting on the trails and mastering the expert areas should be a challenge worth the adventure. Don't forget to bring someone to spot you along the way.
WHAT IF YOU DIDN'T WANT THE TRAILHAWK? No problem! Jeep has a great lineup of trim levels to fit a lot of budgets. Not to mention the special editions that make one very special own. This is why Jeep has been doing great – they love giving its customers what they want. If you are not an off-road enthusiast or do not have ambitions to become one, there is a Cherokee that fits your lifestyle. This is why the Cherokee is a hot seller right now.
Of course, we love what Randy has to say about the cars we sell at Apple Chrysler Dodge Jeep Ram in Shakopee. We would love to see what you have to say about them! Stop by and see our inventory of Cherokees. And, wait until you see our new showroom-now open.